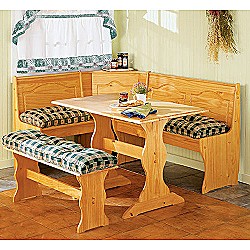 Star Light, star bright
First Star I see tonight
Wish I may,
Wish I might
Have the Wish I Wish Tonight
Okay I don't really need it .... its available at Sears.com .... its under $400 .... but we have a perfectly servicable Nook set that came with the house, so this will have to wait.
Why do I like this one? Well aside of the brighter color (my kitchen is currently black with avocado/goldenrod), the current set is leather upostered .... nice, unless you have kids--they have put a huge gash in one of the seats that started off small enough but has grown into a zipcode of its own .... but its perfectly servicable.
Also the table of our nook is currently attached to the bench by an L shaped pipe (I say 'currently' because you never know how long anything will last with these kids)... nice in that you don't have to worry about where your feet go, but you can't get it out of the way to be sure everything is swept from underneath == oh and spills! It would be nice to be able to get to those spills without having to take the entire bench apart.
Speaking of underneath -- right now we can use underneath the benches for storage by lifting the bench seats...another great idea unless you have kids--liquids&crumbs collect between the cushions so cleaning is a real bummer/adventure; No storage, but then no place for the gunk to hide either.
I can sit three along the outside if need be with the bench, instead of just the two I can now with chairs ... the old 1950's kind where the feet are angled so that they 'hook' onto each other when two people are trying to tuck-in, its a veritable wrestling match for space.
the present model blocks the heat vent for the kitchen such that the old owner had to jerry-rig a way to pump the heat to one end of the bench .... open bottom means loss of storage but plenty of heat (that would be nice) ... also I can see if anything is resting on the heater back there - yuk, nothing quite like having the kids drop something behind the bench and not tell you about it until the heater goes on in the winter - "who dropped the plastic toys behind the bench?' 'oh yeah. That's where they went' ... or I've even had ... 'don't you think it would be nice if you drop a peice of bread behind the bench, you'd let someone know?!' -- mind you, these are the same kids that somehow got oatmeal on the rim of the over-hang lamp)
The new set would mean I would have to make cushions - ones with removable covers for washing (the ones shown are sold seperate). The wood marrs, scratches, finishes wear. While I like the trestle table ... the bench looks a bit unsteady ... with the bench more than one person would have to be comfy with the distance from the table.
Actually I should have hubby look at this and design our own. It would be nice to have the table big enough to have a bench along both outside edges ... although I'm not sure that would work for everyday use (maybe a leaf configuration) for when we have drop-ins or for those holidays when there's 10 of us trying to use the table. (Actually hubby could do just as good if not a better job than what I see here)
Oh well. Just wishing.
My old table will suit me fine for many a year yet --- I just need to spend $50 and replace the leather with vinyl leatherette and it will last and last. $50 vs. $400 (after shipping/tax) sounds a hell-of-a-lot better to me anyways. I'm sure it would to hubby too.
But it'd be nice.
**********appendium**********
Upon reading this, I realize that I make it sound as if my kids are wild ... they aren't ... they not Bebe-Kids or anything ... but they are rough on their enviroment - as most kids are actually.