(FIRST - I do not believe these kids are guilty of the crimes they are being charged with ... I do believe the families are suffering unnecessarliy ... I also believe that if it weren't for politics, they would be free now -- this post is PURELY about another article I saw and nothing about the students themselves)
Okay so I saw this photo on the Fox News webpage with the words "Do They Look Like .... SPIES?"
Ummm ..... Hmmmm
I think that's the point!
You don't use people who
look like spies
... what do spies look like any ways?
I mean really .....
Do they look like This:
Sean Connery as "James Bond"

or this:
"Spy vs. Spy" from Mad magazines
Or maybe even these:
cast from CBS series "NCIS"
Perhaps these:
James Coburn (Our Man Flint) and his bevel of babes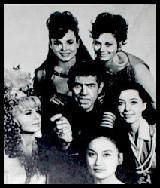 Don Adams (Maxwell Smart, "Get Smart")

Jamie Lee Curtis & Arnold Schwarteneggar ("True Lies")


Well of course not ....
You would want people who look like REGULAR people, who can blend in.